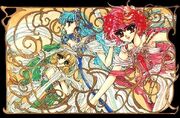 The Magic Knights are three people destined to save Princess Emeraude from Zagato. They are Hikaru Shidou, Umi Ryuuzaki, and Fuu Hououji.
Mashin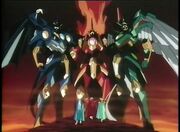 The three Magic Knights freed the Rune Gods, or Mashin. They are deities of their respective elements; Fire, Water, and Wind.
Community content is available under
CC-BY-SA
unless otherwise noted.